Ausstellung / Exhibition in Solingen
15.10.2017 – 25.02.2018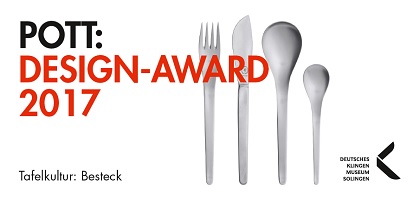 Die Sonderausstellung zum POTT:DESIGN-AWARD ist im Klingenmuseum zu besichtigen. Sie präsentiert alle Beiträge, die zu diesem Wettbewerb für Besteckdesign eingereicht wurden. In zwei Kategorien richtete sich der Preis sowohl an versierte Designer, die sich bereits mit der Gestaltung von Bestecken und Objekten der Tafelkultur beschäftigt haben, als auch an Nachwuchsdesigner, die ein neues Bewusstsein für Besteckgestaltung und Tischkultur generieren.

The exhibition POTT: DESIGN AWARD can be viewed in the Klingenmuseum. It presents all contributions submitted to this contest for cutlery design. In two categories, the prize was directed at designers, who have already dealt with the design of cutlery and objects of the blackboard culture, as well at young designers, who generate a new awareness of cutlery design and table culture.

Location: Deutsches Klingenmuseum, Klosterhof 4, D-42653 Solingen, Germany.