Schoonhoven Silver Award 2018
During the opening of the exhibition the prize winners of the Schoonhoven Silver Awards were announced. The 1st prize Schoonhoven Silver Award was for Peter Bauhuis from Munich won the Schoonhoven Silver Award 2018 with his object "Policast". Gallery owner and silversmith Paul Derrez received the prize on behalf of Bauhuis.
For the first time in the history of the Schoonhoven Silver Award, a Young Professional Award has been presented for participants under the age of 30. Sheng Zhang won this Award with "Inside out" that was made possible by Zadkine and Vakschool Schoonhoven.
An honorable mention was for David Huycke and the encouragement prize Young Professionals for Oscar Saurin. Both received a kilo of silver donated by Herens & Herens.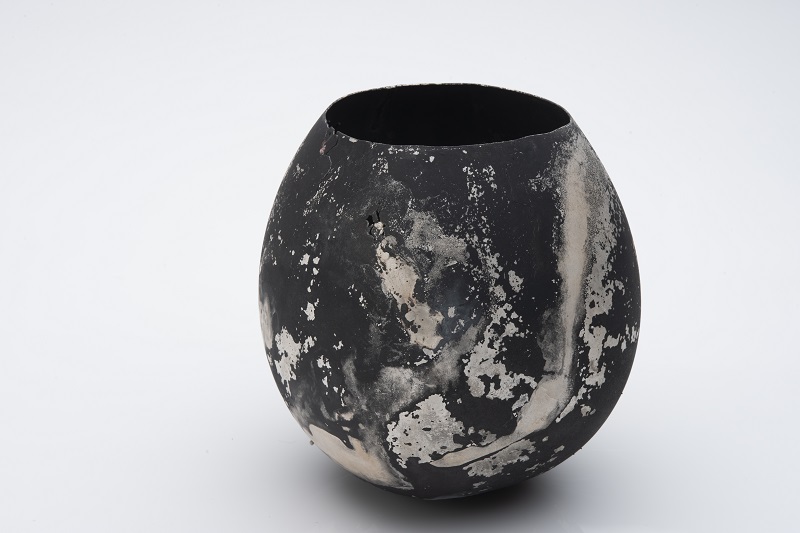 The jury about the winner
The jury, consisting of Angela Cork, Jeroen Martens, Jan Matthesius, says about the winning object "Policast" by Peter Bauhuis: "Peter Bauhuis has perfected his art using one of the oldest techniques, the lost wax technique. He demonstrates a great understanding of the process and of working with different alloys to extend the limits of what can be achieved in silver as a form. The result is poetic and discussion topic for discussion. The design is on the one hand beautifully raw, unfinished and reminds us of archaeological finds. On the other hand, it embraces a very modern look with clear attention to the shape and the square parts of the shape. An inspiring piece in everything."
Schoonhoven Silver Award 2018
With the 7th edition of the Schoonhoven Silver Award 2018 the Silver Museum wants to challenge silversmiths, designers and visual artists at artistic and technical level. This year the most important criteria for the competition were: challenging the contemporary silversmith on an artistic and technical level, innovating older, traditional silversmithing techniques to preserve the heritage and inject new life and innovation into the profession. The judges also sought inspirational work that will encourage debate, discussion and research among silversmiths to meet a promising and prosperous future.
The Schoonhoven Silver Award is an initiative of the 'Stichting Zilverkunst' (Silver Art Foundation). Since its inception in 2001 the Award has had six winners. The Award's most recent editions have been dedicated to promoting contemporary 'great, silver art' to a broader, art-minded audience, with the emphasis on innovative silver concepts. The Schoonhoven Silver Award 2018 continues to be devoted to the goal of reaching a wider audience and inspiring artists to test and explore the boundaries of their traditional art and craft.
After the exhibition in Schoonhoven, the objects will be on show in the international traveling exhibition.
07.12.2018 – 01.05.2019 Nederlands Zilvermuseum, Schoonhoven (NL)